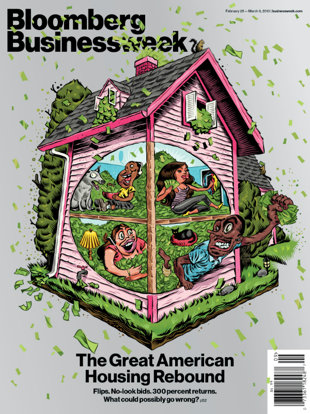 Bloomberg Businessweek is taking a beating from critics who say the magazine's recent cover—featuring a cartoon illustration of what appears to be a black family rolling in cash from a housing rebound—is racist.
"Our cover illustration got strong reactions, which we regret," Josh Tyrangiel, Bloomberg Businessweek's editor in chief, said in a statement to Yahoo News. "If we had to do it over again, we'd do it differently."
The Feb. 25 cover depicts the cash-grabbing family members as stereotypical caricatures inside a two-story pink home above the headline "The Great American Housing Rebound."
More/Source
:
http://goo.gl/2FDhQ